STAY CONNECTED
The end of year is already here, and most of us use this time to make new resolutions for the year to come :)
Why wait for the new year to put them in action?

Start now!


Take a private class with me and start working on and with yourself to welcome the new year!
Rate: 90$/hour
Classes may be online or in person.
Too busy for a regular schedule? Intimidated by crowded dance classes?
Choose to learn at your own pace, specifically on your own chosen objectives.

At your place or in studio, you are free to choose the solution that suits your situation.
In private, you have the opportunity to be deeply observed and coached. We will determine together what will help you grow further and surely.
My students can always count on very in-depth feedback and observe progress in each class. This is the promise I make.
For dance schools and corporate organizations
Organize workshops at your studio or office! Workshops are relatively intensive classes of 1.5 to 3 hours to introduce or train in a dance style.
Your students, colleagues or employees will be thrilled by the experience. Offer them this opportunity to discover themselves and go beyond.
There are different levels of difficulty, don't hesitate to mention your preferences and expectations!
For competition teams
Dance is a physical activity, that's for sure, but my experience proved me that beyond technic lies an intense mental activity. I offer a coaching to the crews and dance companies who want to challenge their skills and knowledge, or work on a specific aspect of their dance practice (performance, creation, choreography, freestyle).
In my perspective, the emotional and mental aspects of dance are essential. They will be systematically addressed.
LEARN FROM EVERYWHERE!
I've decided to create an online dance program in order to allow people from everywhere and all backgrounds to have access to in-depth dance classes.
These courses are organized over 4 WEEKS, for a total of 8 HOURS (2 hours per class)
Four courses available:
1- Beginner L1
2- Beginner L2 (every two months)
3- Advanced training
4- Haitian Folklore : Introduction
LEARN FROM EVERYWHERE!
I've decided to create an online dance program in order to allow people from everywhere and all backgrounds to have access to in-depth dance classes.
These courses are organized over a total of 8 HOURS
Four courses available:
1- Beginner L1
2- Advanced training
3- Haitian Folklore : Introduction
4- Haitian Folklore : Advanced
No intermediate classes are given, as you can see. The reason is that I am here to help you start or help you deepen your knowledge. As for regular practice, there are already multiple schools and teachers who can help you achieve that.
However, if you feel like you need guidance over your regular practice, please don't hesitate to book a private class. I will take good care of you :)
ONLINE COURSES DESCRIPTION
BEGINNERS COURSE
This course is for people who want to learn or revise the basics of dance in order to get started in the practice of it, or to develop their skills.
This course takes place on two levels for those who wish to push further:
Level 1: Rhythm - Weight changes - Isolations - Universal footwork and variations
Level 2: Understanding your body paths - Memory - Energy - Levels and directions
ADVANCED TRAINING COURSE
This course is for dancers who want to perfect their way of moving and give the best of themselves in their dance classes as well as in their shows.
Beyond the physical level, the mental has a big place in my lessons. Indeed, I firmly believe that dance is more mental than physical. This is why, through these lessons, the dancers also acknowledge their thoughts, their way of dancing, themselves in a whole, through questions and homework. It changes everything in the search for improvement.
Some of the topics covered are: Convey emotions - Dance with precision - Dance with power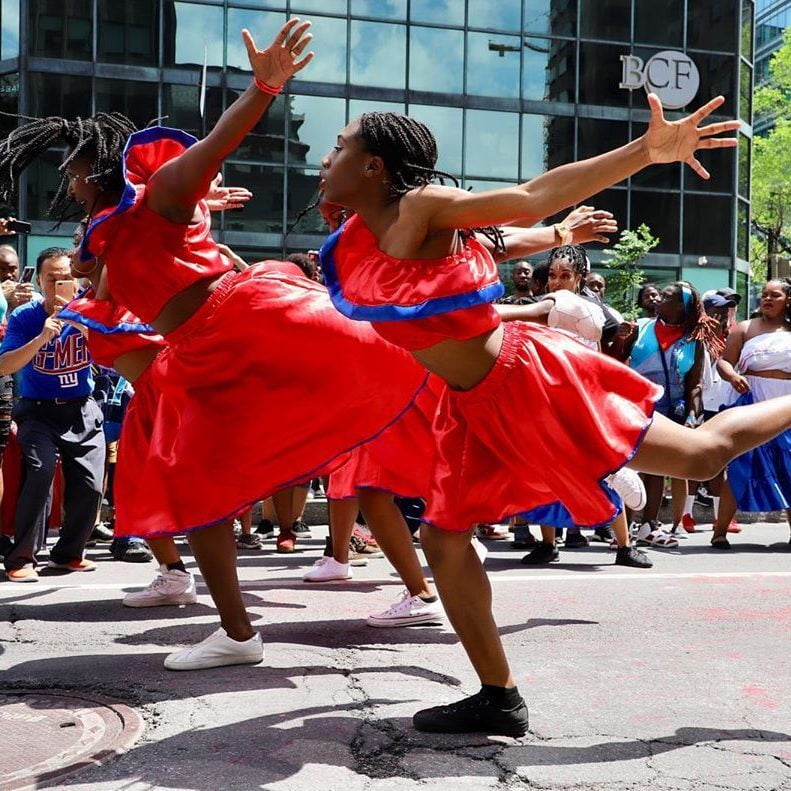 HAITIAN FOLKLORE INTRODUCTION
This course aims to teach or realign the basics of Haitian dance. It is aimed at those who wish to progress in the traditional style and give the best of themselves in the courses and workshops that they follow or will follow.
A different type of dance is seen and explored each week: Ibo - Nago - Yanvalou - Petwo - Afrika - Kongo and more, depending on the theme chosen for the week. Each Haitian dance has its meaning, so there is ample space to discover yourself.
Every Saturday 1-3 PM EST
My videos
Check out my YouTube channel for more Dancehall videos:)
LIVE DRUMS classes are simply the best! Who could argue on that?
But whatever helps us connect with the rythm and history of the dance will make it an experience!
Ayy Rabòday!!
Raboday is a music genre created by Haitian DJs. It is a very hype and dynamic music that the people in Haiti and in the Diaspora dance during carnival, parties, get-togethers, etc. I think I make no mistake in saying that not only young people love it!
As many other popular music genres nowadays, Raboday may sometimes feature "bad words", shocking subjects, which can make some of us frown. The same way we used to do when hip hop and dancehall music were first made popular.
Thanks to the creators, we can still find some great Raboday songs that are just fun to listen and dance to!
I developped a way of dancing it, mixing haitian traditional dances and urban dance style, creating a style that is both rooted and upbeat. In the urban Raboday, musicality and timing play a big role. Thefun certainly outcasts the challenge, I promise!! ;)
Go watch the full playlist and leave me a comment under your favorite ones :)
This playlist features some of my shows, namely America's Best Dance Crew (Quebec) where my crew Womanity got to the Top 5 Best teams in Quebec!
I also directed and/or danced on other shows.
Go check the playlist for more shows!